FINE FOIL offers an assortment of colors,
designs and characteristics, and is the
top brand in hot stamping foil.
FINEFOIL is a registered trademark of Katani co.,ltd.
Products
about hot stamping foil
Product Features
Easy application without the need for expert skills in metallic decoration
Excellent luster and stable quality achieved by vapor-deposition
People- and environment-friendly: no use of solvent, and little waste
Reasonable prices of hot stamping machines enable cutting of investment costs
Applicable to various conditions such as printing of small characters and multiple-surface application
What is Hot Stamping Foil?
Hot stamping foil is a material for application to the surface of plastic, wood and metal as well as painted surfaces by hot stamping. It is now widely used for home appliances, mobile phones, automobile components, cosmetic containers, daily commodities, toys and building materials.
We provide hot stamping foils of many types, designs and colors according to the purpose.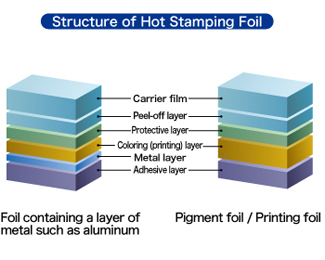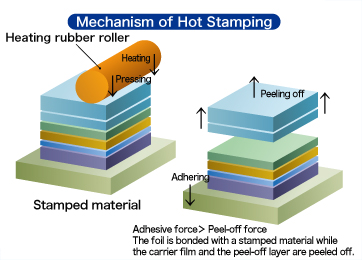 Multi-color Stamping Foil
Silkscreen printing with a high screening property enables 175-dot printing of color separation images and fine characters.
Foil containing a vapor-deposit layer is available.
*The figure on the right shows the structure of foil when resist printing using alkali-resistant ink and alkali washing are conducted after vapor-deposition.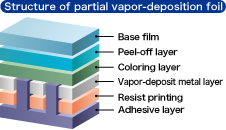 Types of Hot Stamping Foil
Metallic foil (vacuum vapor-deposition foil)
Pigment foil (coating foil)
Printing foil
Special foils
Hairline foil for better metallic effect, special metal foils (chrome, stainless steel, tin, etc.) other than aluminum foil, LAH high-brilliance hard-coating foil, transparent hard-coating foil, and in-mold foil
UVR (Ultraviolet reacting foil)
Stamped characters take on a pale luminosity when lit by ultraviolet light. Both the metallic effect or hologram and luminescence created by UV radiation are effective for security purposes.
Hologram foil
Becomes luminous in rainbow colors when lit. Various color patterns are available.
FINE HALF (Half vapor-deposited foil)
Half metallic foil produced by vacuum deposition technology. It looks metallic under normal conditions, but transmits visible light when lit by an LED from the rear side. The foil can be conveniently applied to display panels of home appliances. Various types are available with a transmission rate of 10%~0%, depending on the thickness of the aluminum layer.