FINE FOIL offers an assortment of colors,
designs and characteristics, and is the
top brand in hot stamping foil.
FINEFOIL is a registered trademark of Katani co.,ltd.
Products
Multi-color Stamping Foil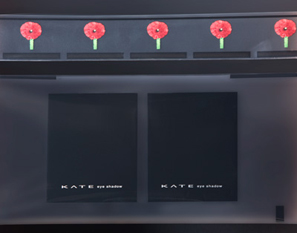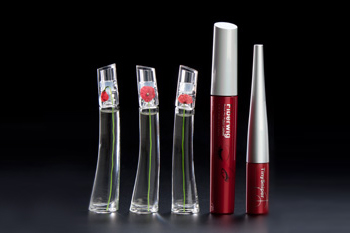 Silkscreen-printed Multi-color Foil
This foil is printed in multiple colors by roll screen printing. More than ten specific colors can be overprinted. It is possible to adjust the thickness of the coloring layers to screen base materials or print in colors with a strong contrast. Small-lot production is available.
Silkscreen printing with a high screening property enables 175-dot printing of color separation images and fine characters.
Foil containing a vapor-deposit layer is available.
※The figure on the right shows the structure of foil when resist printing using alkali-resistant ink and alkali washing are conducted after vapor-deposition.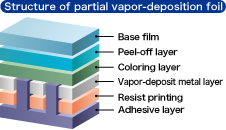 Gravure Printing Foil
The foil is printed in multiple colors by gravure printing; therefore, it can be used for picture patterns and gradation technique in CMYK (cyan, magenta, yellow and black). It is also possible to make surfaces partially metallic by combining with aluminum vapor-deposition and etching techniques.
Mechanism of Multi-color Stamping Foil
●What Is Multi-color Stamping?
Multi-color stamping enables printing in multiple colors on molded products in one process. In the case of our silkscreen printing foil, patterns printed on base films by silkscreen printing are stamped on products using heat and pressure. This method makes products look as if they were directly printed, and enables printing in many colors. With conventional methods it was difficult to match the positions of all colors, and to print small characters.
●How to Conduct Multi-color Stamping?
Patterns on the foil are stamped instantly by pressing with a heated silicon roller. Two stamping methods, the roller type for cylindrical products and the up-down press type for flat materials, enable decoration of products with various shapes.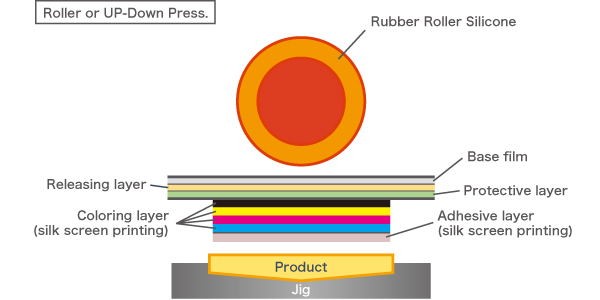 ●Partial application of vapor-deposition layer
Silkscreen printing and hot stamping can be conducted in one process. It is possible to apply metal foil partially, so it can produce a design as gorgeous as a design created by metal leaf stamping. *Only silver color is available for silkscreen printing foil.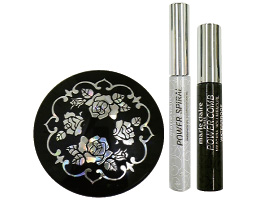 ●Printing of Fine Characters
This method enables printing of fine letters on containers, something that is difficult to do by direct printing. It can be used to make small letters such as those in a list of ingredients readable.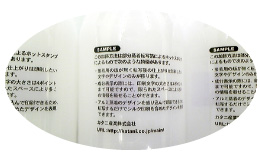 ●For Glass
We have multi-color stamping foil for glass as well as for plastic; multi-color printing, which is difficult to do by direct printing, can be done on glass.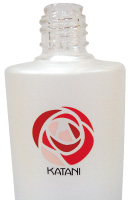 ●For Metal
Multi-color stamping foil for metal is available for partial screening of a metal surface with a design created by silkscreen printing.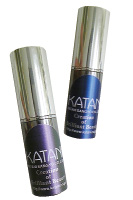 ●In-mold Stamping Foil
This foil can be used to stamp during the molding process, thus making it possible to decorate curved surfaces.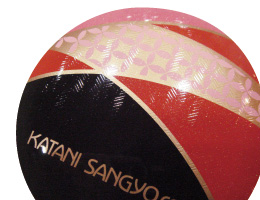 ●Special Foil
Special foils are available to meet your needs — silkscreen printing foil with glitter, and EMF silkscreen printing foil with a rough texture that is created by an embossed base film.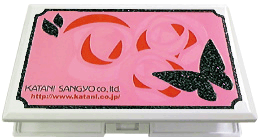 Production Lot (Minimum acceptable quantity)
Length: 30mm
Width: 30mm
Minimum acceptable quantity: 15,000 pieces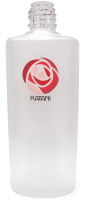 Diameter: φ18mm
Length: 35mm
Minimum acceptable quantity: 10,000 pieces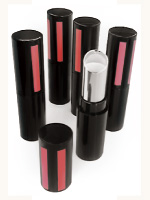 Length: 60mm
Width: 95mm
Minimum acceptable quantity: 4,000 pieces