FINE FOIL offers an assortment of colors,
designs and characteristics, and is the
top brand in hot stamping foil.
FINEFOIL is a registered trademark of Katani co.,ltd.
Products
Hot Stamping Machine/Equipment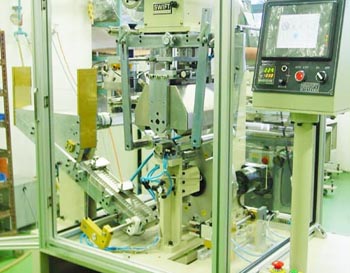 Machines: fully automatic, semi-automatic, roller type, press type, for circumference, oval products and large area, standard type, customized type, simplified type
Components: silicon rubber roll, molding die, stamp, jig, etc.
We provide a wide range of machines — hot stamping machines, secondary plastic processing machines, and standard machines for general purposes. Our technical staff will respond kindly to your needs for design, trial models, estimates and manufacturing of any type of hot stamping machines. In addition, we manufacture secondary plastic processing machines. We also provide components for hot stamping such as silicon rubber rolls, metal stamps, rubber stamps and jigs.
Printing / Secondary Processing Machines
Hot stamping foil cutters
screen printing machines
pad printing machines
high-frequency deposition machines
ultrasonic deposition machines
antistatic treatment machines
quality-testing machines    etc.