FINE FOIL offers an assortment of colors,
designs and characteristics, and is the
top brand in hot stamping foil.
FINEFOIL is a registered trademark of Katani co.,ltd.
Products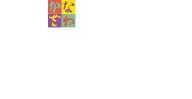 All types of application: entire area, partial area, logos, markings, pictures, name printing
Ask us about gold leaf application. (We provide our services to companies and shops)
Almost all Japanese gold leaf (nearly 100%) is produced in Kanazawa. Recently, the use of gold leaf for items other than Buddhist altars has been increasing.
A gold coating creates a magnificent atmosphere which is different from that created by plating or painting.
How about applying gold leaf to all kinds of products, such as small items, construction materials, interior goods, decorative goods and cards?
"Gold leaf application" may add value to your products. Please consult us.
We offer a variety of types of application: wave application, which leaves creases intentionally to give a special effect, glossy-surface application, and flake scattering.
We can apply gold leaf to lines, pictures, logos, letters, etc., in many cases by means of the silk screen printing technique.
Please consult us about gold leaf application.
We conduct various types of processing such as urethane coating, fluorine coating and quenching, taking the use of the item into consideration.
Materials to which gold leaf can be applied

| | |
| --- | --- |
| Wood | Preparatory processing such as filling is necessary before application of gold leaf. |
| Metal such as aluminum and stainless steel | For reinforcement, we use a two-component adhesive agent. Quenching and forced drying are necessary. |
| Various types of resin such as plastic | Since plastic cannot be quenched, adhesion is not strong enough. We will select a processing method depending on the use. |
| Stone | Preparatory processing such as filling is necessary before application of gold leaf. |
| Paper | Preparatory processing such as filling is necessary before application of gold leaf. |
*We conduct top coating depending on the use.
*Processing method differs depending on the use and the location of use (indoors or outdoors).
*We will select the optimum processing method through discussion.
*It is also possible to apply silver and platinum leaf.
Artistic metal leaf decoration 
Application method has been patented (Patent No. 3464194)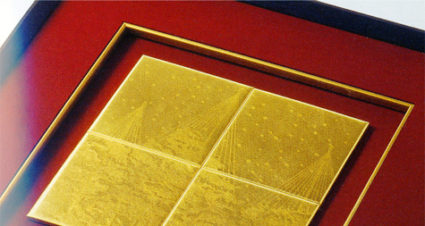 Pictures and letters can embossed on the gold leaf base.
It is possible to raise pictures on the gold leaf by means of our special technique.
We can produce your original gold leaf products.
Frosted parts and glossy parts create a contrasting effect.
Patterns emerge from the surface of the gold leaf, resulting in a high-quality image that cannot be realized by printing.
Please contact our Kanazawa Sales Department for information about gold leaf application and artistic metal leaf decoration.