FINE FOIL offers an assortment of colors,
designs and characteristics, and is the
top brand in hot stamping foil.
FINEFOIL is a registered trademark of Katani co.,ltd.
Products
HALF MIRROR Metallic Film / Stamping Foil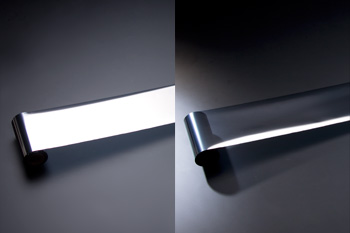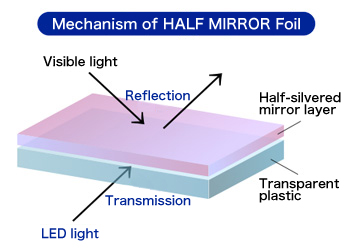 This foil contains a half-silvered mirror layer produced by vacuum vapor-deposition.
The transmission ratio of visible light can be adjusted from 10% to 40% by changing the thickness of the metal layer.
The foil gives a metallic luster just like aluminum, and because it emits backlight or LED light when lit from the back side, it is used for shop decoration, and for front panels (LED light transmission parts) and cover panels of home appliances.
We have a product line of aluminum stamping foil, aluminum film and stainless steel film for you to choose from. Select the best one according to your needs and the properties of your products.
HALF MIRROR Metallic Film / Stamping Foil
| | | | |
| --- | --- | --- | --- |
| Transmission ratio | Aluminum stamping foil | Aluminum film | Stainless steel film |
| 10% | ○ | ○ | ○ |
| 20% | ○ | ○ | ○ |
| 30% | ○ | ○ | ○ |
| 40% | ○ | ○ | ○ |